KICKBOXING | FIETSRY | KARATE | PERDRY | DANS
​

The following cyclists of our school represented the Western Cape schools cycling team at the cycling SA Youth Championships and Interprovincial Grand Finalè in Oudtshoorn from 
2-5 October 2016. Five of the nine provinces were represented at these championships. This competition comprised of 7 events and riders were expected to compete in all 7 events to get an SA Schools ranking . Their results were as follows:
U/16 boys category. 65 competitors : road race of 57 km Kerrighan Aries8th and Riaan Fortuin 27th. Criterium Kerrighan Aries 12th and Riaan Fortuin 16th
Team time trial In this event each team had 1 girl and her position determined the team's result; Team a1 (Riaan's team)1st and Team a3 Kerrighan's 4th 
X-country Kerrighan 7th. Dirt track racing 10 000M scratch race Kerrighan 11th
and Riaan 15th 1500M scratch race Kerrighan 8th Elimination race: Kerrighan 10th 
Overall u/16 boys SA Schools ranking: Kerrighan obtained a well-deserved 5th place on the overall ranking for 2016. He is the youngest rider in the top 10.
Congratulations to the school, parents and cyclists. We wish them well for the upcoming season.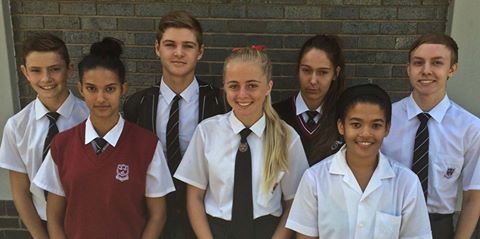 KICKBOXING !!!! Baie geluk aan die volgende leerders se puik prestasies en hope medaljes wat julle gewen het:
v.l.n.r op foto Carmaine Luyt (1 goud en 1 silwer), Mine Graaff (3x goud) Sadika Nait-Saidi (1 goud en 1 silwer) agter v.l.n.r Adriaan de beer (2 brons), Thomas Bell (1 goud), Monique Klue (1 goud en 1 silwer), Erhardt Heydendrich (1 silwer) afwesig: Ali Nait-Saidi (2 silwer)